Walking for Weight Loss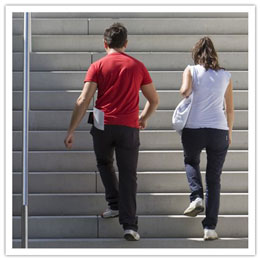 Walking -- to lose weight and keep it off!
In order to lose weight, the best exercise is one you find easy to do and are likely to stick with in the long term…
Walking is by far the simplest, most natural, least tiring, least dangerous and the least expensive form of exercise. We walk just like we breathe, by putting one foot in front of the other and repeating this without any effort or frustration. Walking requires you to use large muscle groups such as the quadriceps and gluteus muscles. These muscle groups are great calorie burners. Walk for 30 minutes per day and I can guarantee that this will help you lose weight. But above all else, these 30 minutes are one of the foundations for stabilizing your weight permanently. You'll never imagine all the positive changes that walking can offer you. If you walk immediately after your meal (lunchtime and evening), you increase your calorie consumption by 20 to 30%. If you don't have time, try the treadmill, you don't even have to go out or get dressed in your workout gear. Finally, walking is as healthy as eating right. It keeps your heart healthy, and your mood cheerful, it helps your mind and memory function-- it encourages your imagination and reinforces what you've learned. To lose weight correctly and permanently, believe me when I say: GET WALKING!