Balsamic Vinegar for Weight Loss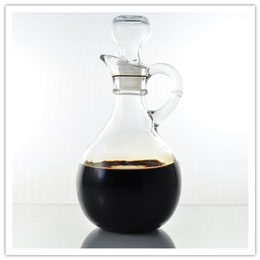 Go balsamic with this slimming vinegar!
Vinegar is in fashion – they range from white, raspberry to sherry and balsamic vinegar...
Apple cider vinegar is virtually a medicinal liquid and many studies and experiments have proved its breakdown action on proteins and its cleansing effect on fats. But balsamic vinegar has another quite exclusive advantage for weight control. It enables you to make sauces almost without any oil at all – by being slightly caramelized and a little more viscous and thicker than other vinegars. Did you know that as far as weight is concerned, oil is the most dangerous food? It is by far, the richest food created -- 9 calories for just one single gram. One tablespoon of oil contains roughly 120 calories. If a salad needs two tablespoons, this amounts to 240 calories-- so you end up eating almost as much fat as a brownie with this innocent salad without even realizing it. With balsamic vinegar, there's no such problem. I make up my vinaigrette with five tablespoons of this vinegar, one tablespoon of mild mustard, one tablespoonful of water and one teaspoon of olive or walnut oil. I add eight basil leaves and a clove of garlic-- the end product is fit for a king and nearly 20 times less rich than traditional vinaigrette. What's more, balsamic vinegar is tasty and you can include it in your cooking. Just try it once when you de-glaze your chicken breasts for example...you won't be able to do without it anymore!